First of all, my plan going forward is to blog occasionally (once a week or so) and then slowly move up from there. For those who didn't know, I stopped blogging when I found two (!) people had been stealing content and selling it to aggregation sites, making a huge chunk of change on the backs and labor of me and my friends. Combined with some personal issues, I just didn't have the heart to do it any more.
Anyway, I will try and post something when I can and when I feel like it.
Today, I am going to write about a heart breaking episode in my collecting history: the one that got away. I ran across the emails from this incident recently (I used to copy emails off telnet and Eudora to text files, which is where I found these).
The story begins in the fall of 1999. I was on fellowship at the University of Illinois at Urbana-Champaign, working with the great minds at NCSA (the legendary National Center for Supercomputing Applications) by day, and spending my nights digging through the stacks at the UIUC library hunting down ads for fishing tackle companies.
The internet was in its infancy, just on the cusp of exploding. I decided to try out a new web site I'd heard about, where people were auctioning off fishing lures in real time. The site was called eBay, and it had gone public one year before, and by now was just starting to grow.
My first purchases on eBay came in early fall of 1999. My brother had started collecting River Runt Spooks back in the early 1990s (Tom Jacomet and Seth Winger were the only other two collecting them that we knew about for years). This was back when eBay was much more open; you could watch who else was bidding on auctions, for example, and you could contact sellers directly.
I listed some duplicate River Runt Spooks on eBay — the first things I ever sold on the site — and at the end of it I put an ad that read "If you have any River Runt spooks you would like identified or evaluated please email me at telarson@uiuc.edu." This was my university address.
I received a couple of emails from, as it turns out, from NFLCC members. I even ended up buying a really, really tough River Runt Spook Sinker in Green Crackleback from a great guy in Texas as a result of these leads.
And then on October 5, 1999 I got an email from a guy named Mike.

Color me intrigued! Especially after I saw the attached images he sent, in all their low resolution glory.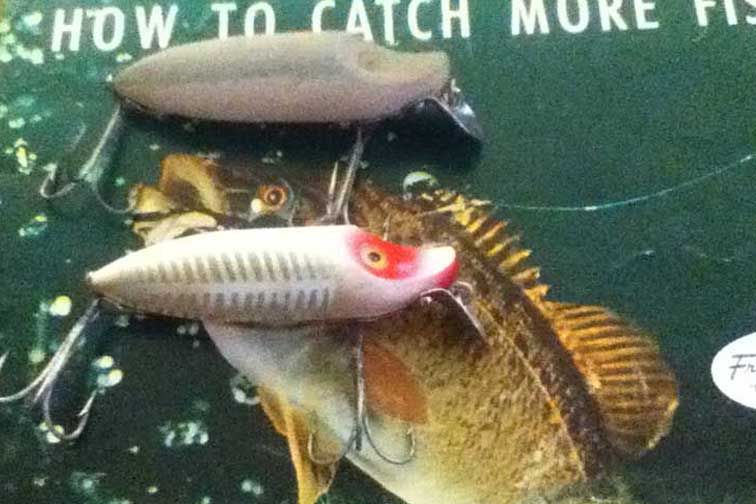 Holy schnikeys! That's an honest-to-God River Runt Spook Floater in grey mouse!
Unbelievable. At the time, I had never seen one before but wasn't overly excited. So here is my reply email:
Anxiously, I checked my email via dial-in internet (14.4 modem) until I got this response:
I was super excited and penned an email asking how much he wanted, and then waited.
And waited. And waited some more.
After about three days, I emailed him again, asking if he got my earlier note. No answer. I waited a few more days and sent another email. Radio silence.
Then, I probably made the worst mistake. I sent a panicked email and offered him $75. This was more than I'd paid for any River Runt Spook before (the Green Crackleback sinker cost me $50 just a month before and that was the most expensive one at that time).
No response. What would you do? The emails didn't bounce back, so I assume he saw them.
Interestingly, it's only after a couple more years, when I inquired at every show, that I began to realize just how rare this bait was. In fact, in 25 years of collecting River Runt Spooks it's still the only one I've ever seen.
An interesting sidebar is that about every six months for the next five or so years, I sent an email to this poor guy's address. I never once got a response. One day, the email came back as undeliverable mail, and the lure was gone forever.
I still think of this as the one that got away.
Anyone ever seen another one? And what is the one that got away for you???
— Dr. Todd