I get a lot of emails about old tackle, but usually it's neat stuff handed down by a father to a son or daughter, and isn't particularly rare (although it is priceless to the owner, as it should be). Occasionally, though, I'll get something sent to me that stops my heart.
The A.H. Fowler Mechanical Spring Snap Hook (a name I have given it) pictured below is one of them.
I've written extensively about Dr. Alonzo H. Fowler of Ithaca, New York — here is a two part article that is excerpted from a chapter I did on him in my book
Forgotten Fly Rods
.
Part One is here
and
Part Two is here
.
So imagine my shock when a collector sent in the following photographs of a lure they discovered at an auction. They thought it was marked "A.H. Foster" but it is certainly marked "A.H. Fowler." I knew I had seen it somewhere before, so I went back through my files, and sure enough — there it was!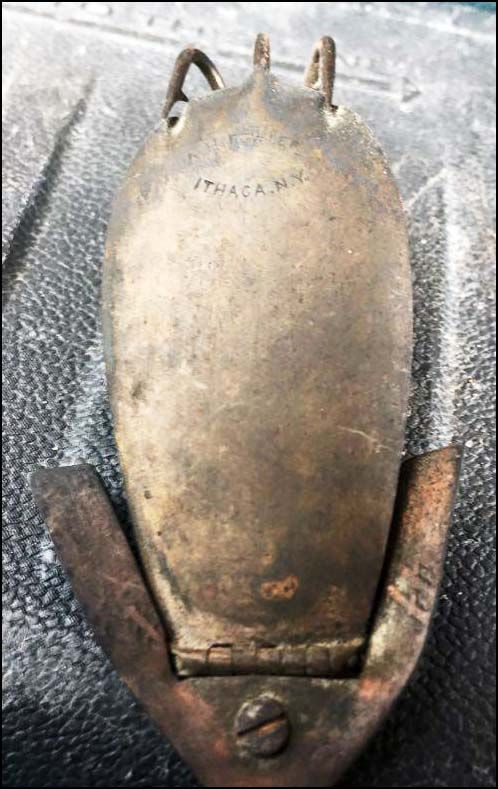 Of course, the photos came from Joe Stagnitti (who else?). Honestly, I don't know anyone who has helped out more collectors, both beginning and advanced, then Stag has. He's been just the best and I, like so many of his friends and admirers, are incredibly happy for him for his engagement and the new direction his life is taking him.
Stag sent me the following pictures in
October 2008.
Yes, nearly a decade ago. He noted he's seen the Kidney blade before (so have I) but never the mechanical bait (neither have I, until this email came in).
Note that the one sent in has three hooks and wings on the head, as opposed to the two hook variation of Stag's bait. This would mean that Fowler was either working to perfect the bait, or more likely, was offering the bait in two styles. The 3-Hook Fowler Mechanical Spring Snap Hook in the picture sent to me is approximately 4" long.
The Fowler Mechanical Spring Snap Hook is a really great example of a very inventive time in American tackle history, the 1870s. I think this lure pre-dates Fowler's partnership with Samuel Tisdel, which dated from 1878. The likely range for its production is 1873-1878 which makes it a very, very early lure indeed.
I have not located a patent for this lure, although there may be one (the late Tim Mierzwa had chronicled hundreds of unfound mechanical hook patents and I've not had the chance to look through his files for this model). I do know it is a beautiful example of the lure maker's art, and the owner(s) of this bait should consider themselves very lucky indeed.
So you never know what the morning email is going to bring; it might even bring a Fowler Mechanical Spring Snap Hook!
— Dr. Todd P.S. If you haven't already thanked Joe Stagnitti for everything he's done for us as a hobby, and as individuals, put that at the top of your To Do list.