The lure that turned a hobby into a business for Akron, Ohio resident Fred Arbogast was his Spin-tail Kicker. His first commercial advertisement, which featured the Weedless version Spin-tail Kicker, ran in the June 1926 issue of Hunting and Fishing magazine. This ad, along with the lure's ability to catch fish, would be the catalyst Fred needed to become one of Americas, as well as the worlds, most recognizable names in the fishing lure industry. Being a fisherman himself, he invented lures to overcome specific problems he had encountered while fishing various conditions in waters all over North America. He officially formed the Fred Arbogast Company in Akron, Ohio in 1928.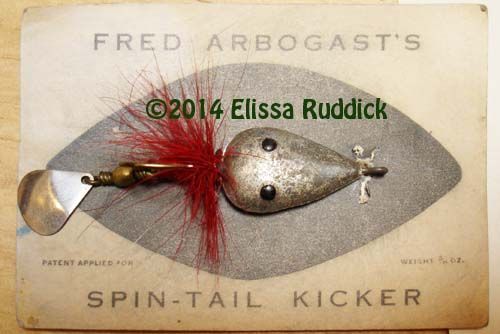 Fred would go on to invent many other famous fish catching lures to include the Tin Liz, Weedless Kicker, Hawaiian Wiggler, Jitterug and the Hula Popper; but the little lure that started it all, was the Spin-tail Kicker!
If you have any questions/comments, Elissa Ruddick can be reached at elissaruddick AT aol DOT com.
— Elissa Ruddick