Pflueger Luminous Tandem Spinner -- Was I Ever Wrong (again)!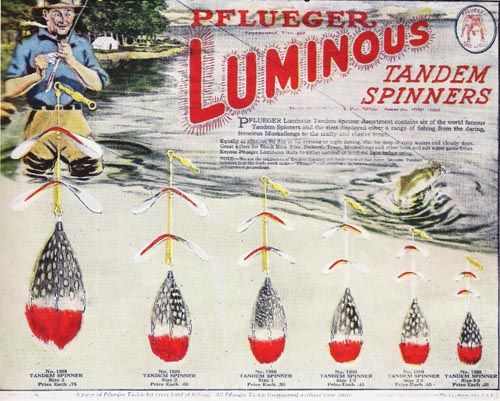 Counter display card of Pflueger Luminous Tandem Spinners as seen the the 1924 Pfluger dealers catalog.
At the 2013 ORCA National Meet in Frankfort Kentucky the vintage tackle fishing contest was held on nearby Elkhorn Creek. I was paired with ORCA's genial Vice President Bill Muth. We started down 6 miles of river by canoe with high hopes. Bill was using a Pflueger Palomine and I was using a Clark's Water Scout, a bait that had a good reputation for river smallmouth in days gone by. After 2 miles and no action whatsoever, we both started digging in our tackle boxes for some different lures. I was a bit surprised when Bill held up a Pflueger Luminous Tandem Spinner. I remembered them being in the Hardware store as a kid and I even bought one in 1956. Older tackle boxes I've looked through over the years as often as not contained one or two. I do not recall ever seeing anyone use one. I know I never used mine other than to make one or two short casts to see how it worked. It seemed too light to cast well and didn't have the kind of wiggle that gives young boys confidence.
My remark when Bill held up the Tandem Spinner for my approval was, "that thing has desperation written all over it". We both laughed, but two casts later Bill's bait was nailed by a nice river Smallmouth. Needless to say, I was very surprised. A picture of Bill holding that bass appears below. Bill then proceeded to land five more bass winning the contest going away with five more bass landed. Just as we were about to finish the trip Bill lost the biggest bass of the day right beside the boat and all of this on the Pflueger Tandem Spinner. Dang! sure looks like I was wrong about that bait. I made a mental note to pick up a few Tandem Spinners at the next few NFLCC meets that winter.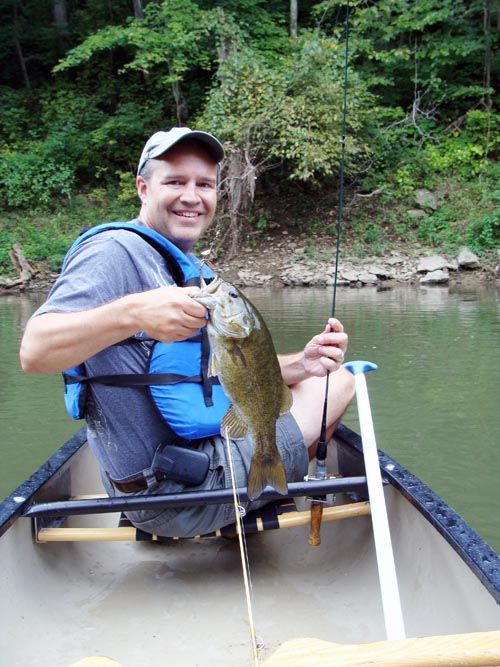 After acquiring a half dozen of the baits for a dollar or two apiece at the Milwaukee Antique Lure show in January, I set them on my desk. Sometime during the winter I polished the blades after which they were completely forgotten. I happened to notice them the following June and threw them in my tackle box, meaning to give them a try. Fishing was great all during June and early July and I really never thought about the Tandem Spinners again until a very slow (no fish whatsoever) evening on the 22nd of July. What the heck, I've nothing to lose, I'll give one a try. I knew they were light but I was using a 6ft soft action glass casting rod from the 1950's and a narrow spool Coxe 25 with an 8lb braided nylon line. If that outfit would not cast them, I can't think of a vintage (pre-spinning) outfit that would. I was pleased on the first cast to see it sale out there about 50 ft. With the rod tip held high it ran a foot or so below the surface. To my pleasant surprise I actually received good hits on the second and third casts! I inspected the lure and as usual on many old baits the hooks were very dull. I took out the file and sharpened each of the three points. I was somewhat flabbergasted to catch three bass on the next five cast! Wow, where has this bait been? I can't cast it more that 50 feet and unless one drags one's thumb on the spool a little during the cast the line tends to loop around the first spinner. I hope I'm never too old to say I can't learn something new!
Thanks to Bill Muth this one stays in the tackle box!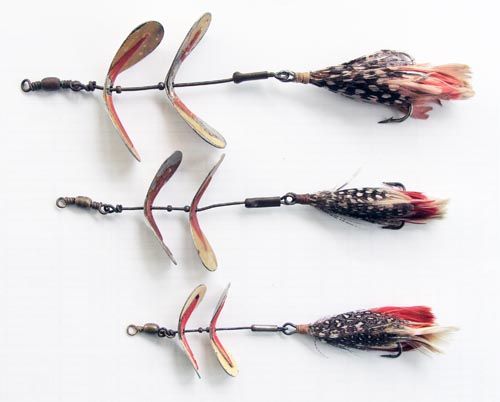 Tight Lines,
Bill Sonnett
===========================================
BUY THE DECONSTRUCTING OLD ADS (VOLUME 1) BOOK
BY CLICKING HERE!