I was looking up other things recently and ran across this blurb in the June 1922
Hardware World
magazine. It was above an article entitled "Dealer Cooperation" and showed what has to be one of the toughest Pflueger advertising pieces to find. The copy read:
The Enterprise Mfg. Co. of Akron, Ohio are offering to send to dealers, prepaid, a three-piece window display in color on heavy lithographic board, with double easels and complete instructions for setting up, as a means of helping to increase their sales and extend their trade on Pflueger's fishing tackle.
These three display pieces consist of the fishermen as shown above a leaping bass and water, a counter pamphlet container. It is sure to attract attention at this season. They claim to be the oldest and largest manufacturers of fishing tackle in the United States making a complete line of everything the fisherman needs. They will be glad to send their catalog, No. 37, of some 400 pages of interesting and valuable information to any of our readers who have not received a copy.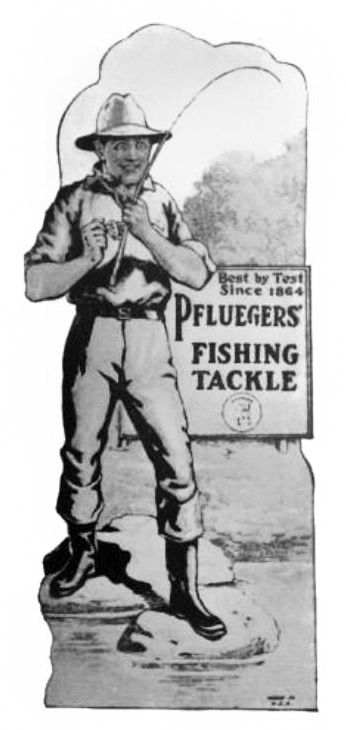 I imagine this display was at least six feet tall, and I bet it had gorgeous colors! It's a superb piece.
So … has anyone seen this dealer display?
— Dr. Todd