When I first started to seriously collect Heddon lures in the early 1980s, I was fascinated by a lure that collectors referred to as the "Heddon 402." At that time it was considered to be a very rare bait. The bait was unmarked as were all of Heddon's lures made before 1912 and it went unrecognized as a Heddon product by the majority of collectors. This probably helped establish its reputation as extremely rare. As time has passed the bait has proved to be scarce, but not nearly as rare as once thought. I acquired one in 1987 for what was considered a good price at that time -- $700. It is yet another example of a lure that has fallen in value as years have passed. Not only was it not quite as rare as had been assumed, but it was made in only three colors. In a world where color collecting has been on the increase and interest in early Heddon has "leveled off," the days of "heady" prices for this bait seem to be in the past.
In the early days of our hobby, the best (and sometimes only) sources of information were old catalogs and advertising. In this case, the "402" appeared only in the 1909 Heddon catalog and seemed to be absent from magazine advertising. This led to the assumption that it was only made one year thus adding to its reputation as rare. Before World War Two, Heddon identified their lures with a product number but changed the last digit in that number to indicate the color of the individual bait. The lure illustrated in the 1909 catalog color plate was shown in yellow with a sienna crackled forehead. With this particular bait the color white with a green crackle forehead was listed as "0," the rainbow color was "1" and the yellow with sienna crackled forehead was listed as "2," Hence the pictured bait was prominently labeled "No. 402."
It always seemed a little odd to me that this bait was only in one catalog. One day in early 1985 when looking through Cliff Netherton's book on the history of tournament casting, I noticed a reprinted program for a casting tournament held in August 1908. There on page 17 of the program was a full page illustrated ad which included the "400 Bucktail Surface Minnow."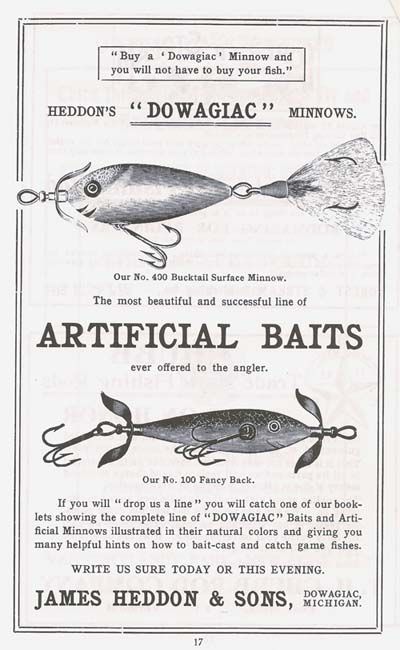 I now knew that the bait was available in 1908 and more importantly, what the real name of the bait was. It must be remembered that no 1908 Heddon catalog has been found to date. It has taken many years to shake off the "402" collector's name which still surfaces on occasion. About a year or so later, fellow collector John Romero sent me a write up he had located in the April 1908 issue of
Field & Stream
on the new "No. 400 series of Bucktail Surface Minnows" It read:
"There are perhaps no articles of fishing tackle more securely wedded to the affections of the devotees of the art of baitcasting than the very excellent "Dowagiac" minnows manufactured by James Heddon & Sons, Dowagiac Mich., and found on sale wherever fishing tackle is sold or used. The latest production of this factory is their No. 400 Bucktail Surface Minnow, herewith illustrated. The body of this bait is made of white cedar, the wood being chemically treated to prevent absorption of water, the enamel and finish of that super-excellent character which is found in all "Dowagiac" products. This lure is wonderfully successful for Spring fishing, being especially adapted to use on shallow water at a time of year when bass will readily rise to the surface..."
As the years have passed, I have become less interested in accumulating old lures and more interested in how these baits were fished and why their life spans in the product line were long or short. Needless to say I was not about to "fish" with the bait for which I had paid $700. With the emphasis on "mint condition" baits these days, many formerly expensive baits with a blemish or two have become so inexpensive that experimenting with them in the water is very affordable. One Winter day three years ago a 400 Bucktail Surface Minnow showed up on Joe's Board that was a partial repaint and very affordable. After removing some nail polish and a few more fisherman "touch ups" the bait looked better than I thought it would. I placed it in my tackle box intending to give it a workout the following Spring. As a bait that lasted only two years in the Heddon product line, I didn't expect it to be a "killer" on bass, but with a little surface manipulation I was sure that I could take a bass or two which not only would make for a great photograph, but surely would be the first bass in a LONG time taken on this 100+ year old bait.
Spring arrived and after an hour of fishing with some of my favorites antique baits, I spotted the "402" in the bottom of my tackle box. I had forgotten that it was there. Time to try it out! I started out with a modest cast so I could observe the bait more closely. I had always assumed that it would float with the crackle painted forehead riding above the surface. The next few minutes were ones I will not forget. The bait immediately turned nose down and sunk like a "rock in a sock" straight to the bottom. After observing it next to the boat, it was obvious that it wasn't even close to being able to float. Very fast reeling with a high rod tip barely managed to keep it near the surface but any slacking of speed sent it straight for the bottom. I removed the long shank belly hook, which was standard on the bait, and put it back in the water. Same story, it refused to float. Disappointed, but "educated," I put the bait back in the tackle box.
Since that time I have wondered if this was a fluke. I thought I needed to try out another bait to be sure that they really did not float on the surface despite what advertising had indicated. If not, this would certainly explain its short lifespan. In desperation I took out my "clean" example and placed it in a bucket of water. While it did not sink like a brick, it floated with its nose straight down and with less than ⅛ of an inch of the tail sticking straight up out of the water! Hardly the position that one would want a surface bait to rest in. I did not let it stay in the water long enough to see if it would still cling to the surface once the buck tail became saturated. I believe any sort of tug on a line or even the weight of a wet silk casting line would immediately pull the bait below the surface. I suspect that this is the answer as to why the bait was ineffective as a surface lure and so short lived in the Heddon line. In my eyes it remains a beautiful bait in any early Heddon collection ... though I'm sure it was disappointment to the folks who purchased it as well as the Heddon Company in 1908.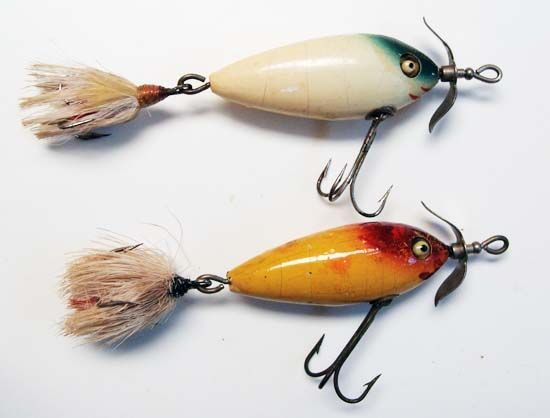 A pair of 400 Bucktail Surface Minnows
Tight Lines,
Bill Sonnett
===========================================
BUY THE DECONSTRUCTING OLD ADS (VOLUME 1) BOOK
BY CLICKING HERE!