Dr. Todd Goes Pier Fishing, or How I (Almost) Helped Win The ORCA Antique Tackle Fishing Tournament
By Dr. Todd E.A. Larson
©2014 The Fishing for History Blog
Part I: The Iron Angler
I knew the 2014 ORCA nationals, held from September 3rd through the 6th, would be something special from the moment I stepped on the airplane at the Cincinnati airport. Flying today is at best uncomfortable and at worst unbearable, particularly if, like me, you fly what the airlines generously call "economy." There are many bad things about flying economy – no leg room, cramped seats, horrible television screens that can't be turned off ¬– but the worst is having to walk through first class as you board the plane. This is uncomfortable for everyone, as us economy folk look in envy at all the space in the first class cabin knowing we'll soon be packed like sardines, while the first class passengers always seem to have a slight look of guilt on their faces as they steadfastly try to avoid eye contact with the
hoi polloi
as we are ushered to the back of the cattle car.
I am rarely on a plane these days that is not completely sold out, and my flight to San Diego is no exception. Since I booked late I could not get an aisle seat and was not looking forward to spending several hours stuck between a rock and a hard place. I dutifully plopped down in my middle seat next to a nice lady as I await the former NFL linebacker who will, undoubtedly, take the aisle seat next to me (and all of the arm rest). But a funny thing happened. The seat remains empty. Even as the stewards announce final boarding, unbelievably, the seat is unfilled. One of the stewardesses asks if anyone is sitting in the empty aisle seat. "I will be in about six seconds," I say as I unbuckle, lift the arm rest, and slide over. For the next several hours I have two seats to myself (the lady on the window seat was already asleep and blissfully unaware of this incredible stroke of good fortune). I can only imagine the looks I am getting from my fellow economy passengers. I wouldn't know. I steadfastly avoid eye contact with anyone for the remainder of the flight, as I stretch out like a Turkish pasha luxuriating on the royal divan.
The San Diego convention was held at the Kona Kai Resort on Shelter Island right on the harbor and conveniently located about three minutes from the San Diego airport. My gloriously comfortable flight arrives an astounding 45 minutes early, and I am in the hotel by eleven a.m. Check in is supposed to be at three. Not on my lucky streak it isn't. A very friendly employee gets me a room overlooking the harbor with no wait. Unbelievably, I am unpacked and lounging on the deck while looking over the pool about the same time my flight was supposed to land.
This is going to be a hell of a show.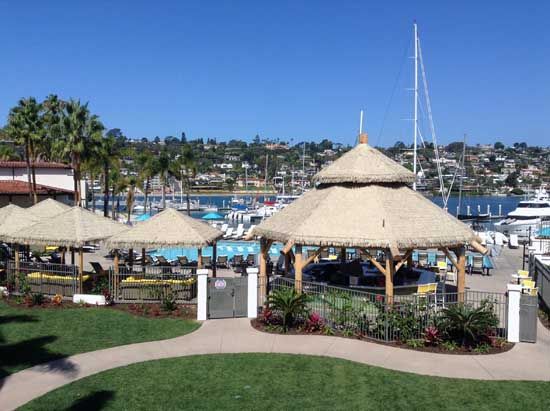 The view from my balcony. Tough life these San Diegans lead.
Dr. John Elder and Brian Funai are the show hosts and over the next three days everything will run so perfectly that it is almost surreal. This is one of those things that cannot be attributed to luck. There is so much hard work that goes into making sure that everything runs smoothly it is incredible, and all credit goes to John and Brian and the rest of the ORCA volunteers.
The show itself is memorable in every way. In all my years of collecting I have never seen so many rare reels in one place. Ever. Everything else – the weather, the food, the friendship, the speakers – was beyond expectations. It was incredible.
But this is not a story of the show itself. If it was I'd have to write tens of thousands of words about the late dinners with left coast denizens Terry Ow, Joe Connors, Dennis Buranek, and Steve Ellis; I'd spend days describing the lunches with Bob Douglas, Larry Lauve, Bud Chaddock, and others; I am not sure I could even begin to capture how much fun room trading was in Dave Gaustad's room (where I bought two beautiful tiny brass reels for my little reel collection), or the meet-and-greets where Clay Hood, Randy Anderson, Willis Logan, and so many others dazzled us with rare and unique reels. As for the speakers? Alan Barracco, Nello Armstrong, and Colby Sorrels gave a brilliant talk on San Diego's own Langley Corporation; Dan Brock dazzled with his display of mostly unseen West coast reels; Dennis Buranek gave a brilliant talk on Thompson fly reels; and as if that was not enough, Catalina Tuna Club historian, outstanding writer, and all around good guy Michael Farrior detailed the history of this legendary organization. Amazing.
But this is not a story about those memorable experiences. No, this is a story about fishing; pier fishing to be exact. This is an aspect of the sport of which I have almost no experience. Growing up in the Northland we have what you might call dock fishing, but this compares to pier fishing in the same way that sledding in your back yard compares to skiing in the alps.
Why I am pier fishing is an interesting question. Every year ORCA holds a vintage tackle fishing contest. The San Diego nationals posed a couple of problems when it came to this staple of the convention. First, there is no freshwater fishing within reasonable distance of downtown San Diego suitable for such a contest. Second, since it was on the West coast, lots of members would not be able to fly out with the requisite fishing tackle necessary for the salt.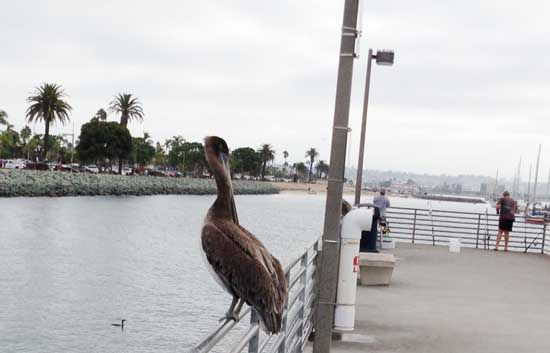 Lots of wildlife, including Pelicans and (in the water) a cormorant that continued stealing bait from a pair of fisherman.
Enter Brian Funai. Brian is a native of Hawaii and well versed in all kinds of saltwater fishing. He helped put together the fishing kit (including apparently buying a bag of frozen seafood so we would have squid to fish with) so we would have the necessary terminal tackle for the contest. So at least half the battle was solved by Brian's preparation.
But where to fish? The only suitable place to hold the contest was the Shelter Island fishing pier (the only one on the island by the way) and so dutifully on Friday morning at 7:30 a.m. I arrived to see what this pier fishing was all about.
Alas, only a couple of ORCAns brought their own gear; the Langley crew (not a surprise there, these guys are prepared for anything). What about the rest of us unfortunate souls? Well, the intrepid Dr. Elder brought us out a bundle of rods and a bag of reels from his room. Added to Funai's tackle bag and Nello Amrstrong's tackle box we could now go fishing. But not like any fishing I'd ever experienced before, however.
There is a famous television show called The Iron Chef. The premise of this show is to present contestants with a small set of bizarre ingredients (such as squid and spinach) and then force them to try and make an edible four course meal out of it. What was happening on that pier in San Diego turned out to be the pilot for a new show: The Iron Angler. Only instead of food, we were presented with completely mismatched rods, reels, and lines and were then expected to catch fish with it. To top it off, recall this mishmash was composed of tackle mostly ninety or more years old.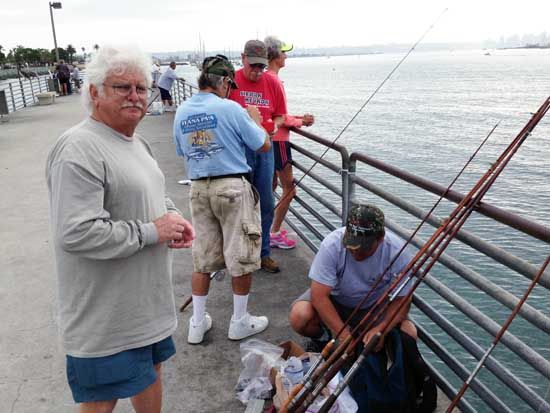 Butch Carey (wearing the "are you kidding me" look on his face) and Brian Funai (seated) go through Brian's fishing kit. Paul Berinson, with his back to us, is ready to hit the salt.
Let's discuss the rods first. All but two were vintage boat rods. For those who don't know, a vintage boat rod is a pool cue with as few as two guides designed to literally drag a fish out of the water. It bends about as easily as a baseball bat. They are about as useful for pier fishing as a microwave on Mt. Everest. There were only two non-boat rods in the mix; one was a really willowy bamboo spinning rod of about seven feet, and the other a really neat surf rod hand made by E.M. Holm of Los Angeles. It was a surprisingly collectable rod stuck amidst the other falderal John had brought us.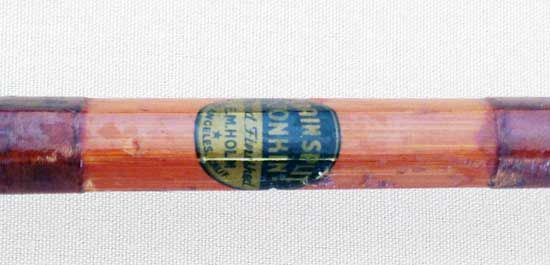 This E.M. Holm "Grain Split Tonkin" hand-finished rod made in Los Angeles in the 1930s.
If the rods were a bizarre mixture, so were the reels. There was a Penn trade reel marked Deep Sea Angler from around 1936, a Fox Gun Company surf reel, a Pflueger Interocean, and a couple of other similarly antiquated reels. Most still had the original line put on in the 1920s or 1930s. There was also an old DAM Quick spinning reel with some ancient monofilament on it as stiff as frozen piano wire and just as brittle.
Fortunately for us we had Butch Carey, a Floridian and self-described "Pier Rat" in his younger days. Butch knows his way around pier fishing and together we cobbled together a pool cue boat rod and a 250-yard surf reel filled with some ancient linen line to make a serviceable fishing instrument. I tied about six feet of monofilament from Nello Armstrong's tackle box with a blood knot to the 18-thread line, put on a #8 Gamakatsu hook to the mono leader, and a single split shot. Baited with a piece of squid, Butch was able to lower the line over the side of the pier and into the water. Over time he perfected a method of setting the hook with his hand; he would have made a fine aboriginal fisherman, as it turns out.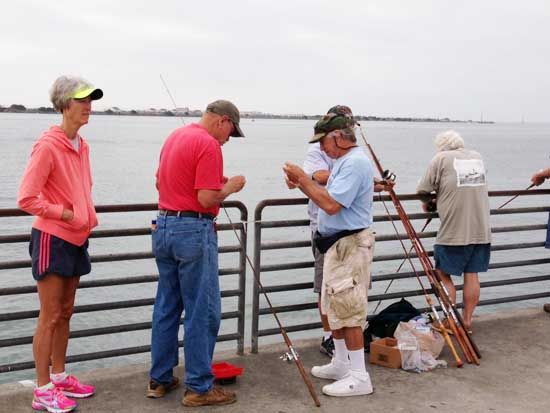 The ORCA gang matching up boat rods and ancient reels. To say we got strange looks from the regulars would be an understatement.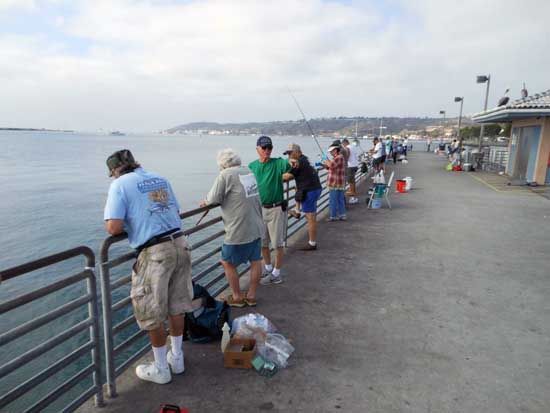 We were just a few in a long line of pier anglers.
The 2014 ORCA Vintage Tackle Contest was on!
Tomorrow: We're Gonna Need A Bigger Pier …
— Dr. Todd