Jacob Mick – Mystery
The ad presented here is from the June 1905 issue of National Sportsman. I wish I could present some definite conclusions based on what we know about this ad, but the fact remains that after several years of effort I can only present the evidence, give my own thoughts and let someone else out there take from here. There are at least three Jacob Mick advertisements that show up in National Sportsman in early 1905. I have chosen this one because it illustrates both his baits.
If anyone were to show the illustration of the top bait in this ad to a knowledgeable collector of early baits, most of the time the name "Harkauf" would come up. The shape of the bait itself along with that of the metal fins and the hooks hung by split rings on staples in the wood, are all the same features seen on the "Harkauf Plug". There is an illustration of this bait in an early Harkauf catalog as well as on a few Harkauf boxes with illustrated labels. The illustrations used in these Harkauf sources are not just a similar illustrations to those used in Jacob Mick's ads, they are the same exact cut ! I will say that I never had reason in the past to doubt that Harkauf actually sold the bait, but it's construction seemed to have nothing in common with the well known Harkauf minnows that were produced by the company.
This early Harkauf Plug box uses the same engraved cut on the label as is found in the 1905 Jacob Mick advertisement. It is presented here courtesy of long-time NFLCC member Rick Edmisten
As to the second bait in the ad, it is an accurate picture of what is usually referred to as a "Decker Underwater Minnow". When I first noticed this, I asked several knowledgeable collectors if they had ever seen this bait with the name "DECKER" on the spinners or on the body. No one said they had. One long-time collector told me that it had been assumed early in the hobby that this was a Decker as it was found laying in an open Decker box when folks went through the estate of a deceased NFLCC member. After this assumption was published in an early edition of Carl Luckey's Early Fishing Lures and Their Makers it seems to have been taken as gospel. Like the Floating bait, it has its hooks hung by split rings on staples. I do not know of a box that has this bait shown on the label.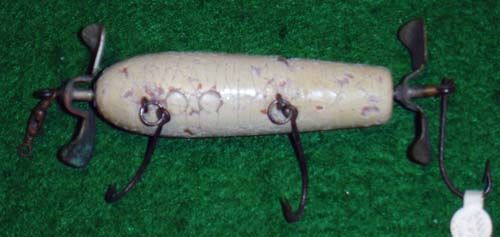 his is the bait that is often called a "Decker Underwater Minnow" despite the fact that none have been seen marked as such. It is identical to the bait illustrated in the 1905 Jacob Mick advertisement and is staple rigged with split rings just as the Jacob Mick Top Water Bait. This picture is presented here courtesy of long-time NFLCC member Warren Platt.
Decker collectors do not graciously accept that this second bait may not have been made by Mr Decker. I would only say that if Mr Mick made both baits and sold the surface bait through Harkauf, but not his underwater, that would explain why the surface bait is fairly common and the underwater is very scarce. For those who would argue that Mr Decker made the underwater that Mr Mick was selling, I would ask why Mr Mick would only offer the poorly selling underwater and not Mr Deckers popular surface bait. To me a better explanation is that Mr Mick made both baits and Harkauf sold Mr Mick's surface bait to compete with the popular Decker, while declining to sell the fairly crude underwater, as the company already had a line of high quality underwater minnows.
The fact that Harkauf was not the only outlet for Jacob Mick's surface bait is suggested by the box shown here courtesy of Joe Stagnetti. It is an original Jacob Mick box that was found over labeled with a label for the "Manhattan" top water bait.  
This original Jacob Mick box was found over labeled with a "Mahattan Top Water" label. It is presented here courtesy of well known collector, Joe Stagnetti.
I'm hoping that sometime in the future more evidence will surface to clarify this picture. In the mean time I have a short story concerning the "Harkauf Plug". Some years ago I bought a well used one in the smallest size at the Milwaukee show for $15. It was complete with original hooks but missing some of its paint. It had the look of an old bait that would catch fish. The following Spring my long-time fishing apprentice Warren Platt was visiting and I pointed to the bait that was hanging on the wall and asked how he would like to be the first to try out this 100 year old bait. He jumped at the chance and quickly caught and released 4 bass (all that tutoring is starting to pay off folks). He then turned to me in the other end of the boat with a puzzled look and said "something is wrong". He showed me that the bait was sinking slowly rather than floating. After 100 years that wood was so dry that it sucked in enough water in 40 minutes to become waterlogged! After drying out for the rest of the season, I waterproofed it with some polyurethane and today it floats just fine and is still taking fish over 100 years after it was made.
Tight Lines,
Wild Bill Sonnett