The Tackle Hawks, Part III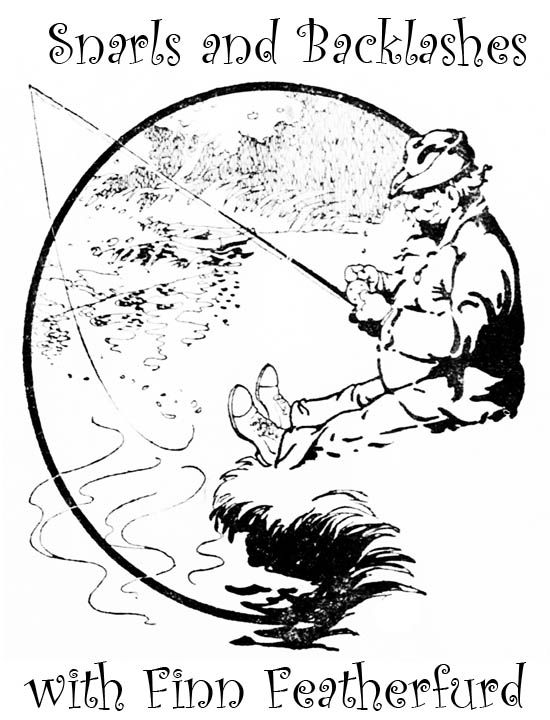 In part three of our retrospective of newspaper pictorial tackle ads, we'll look at some earlier ads. Pictorial tackle ads have been used since the 18th century, but really came in to vogue in the 1890s. The one below is from a Washington D.C. tackle shop run by M.A. Tappan and dating from August 16, 1891. It was published in the
Washington Sun Herald
.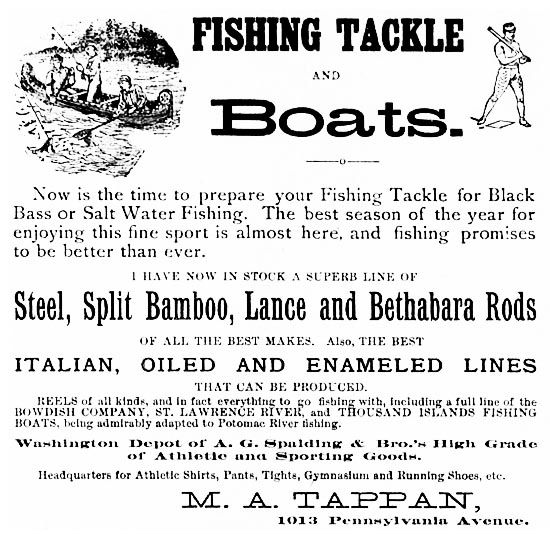 Lots going on here, with a truly cool woodcut of a three person canoe and an angler catching fish (ignore the baseball player in the corner). I would not, however, recommend standing up in a canoe while someone else reaches out with a net to land your fish.
We learn from this ad that Tappan was catering to saltwater and freshwater anglers, and carried steel, bamboo, lancewood and bethabara rods -- the later a proprietary wood used by Shipley of Philadelphia. He carried lines, "reels of all kinds," and THREE kinds of fishing boats (Bowdish Co., St. Lawrence River, and 1000 Islands Fishin boats). These are some incredible boats; to check out what the Bowdish Co. boats look like,
Click Here
. I'd love to own one of those today.
Keep in mind that Tappan was an authorized Spalding & Co. dealer, meaning that they would have carried the Kosmic line beginning in 1892.
I award this Mr. Tappan four fish for aesthetics and six fish for effectiveness. It's an oddly effective ad greatly enhanced by the canoe image, and although it may not make me want to buy fishing tackle, it does makes me want to buy a boat.
We move to the left coast for our next ad, a June 8th, 1895 advert from the
San Francisco Call
from the old firm of Clabrough, Golcher & Co. down on Market Street. It's a small ad and very spare; it's dominated by a single fly in the middle and subscribes to the "can be read from any direction" school of advertising. It's aimed at fly anglers and makes a point to note that it carried English trout flies that were coming in to vogue in America.
I'm not sure this is an effective ad because I don't think at a glance you can tell it is a fishing fly. It makes me want to buy something, but I'm not sure if it is a fly rod or a fly swatter. I award this ad three fish for aesthetics and four fish for effectiveness.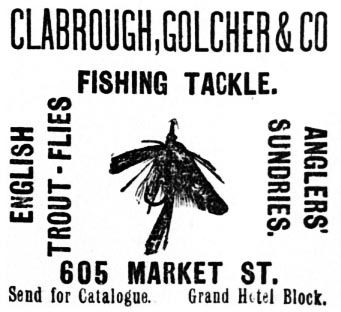 I appreciate what the next selection tried to do, as it has a (partial) silhouette drawing. It's a Florida ad from Daytona and run in the April 15, 1905 paper for the Mason & Wall Company of 119 North Beach Street. Three things stand out here. First, it lists a phone number - dial "9" for tackle. Think of that for one second. A one digit phone number.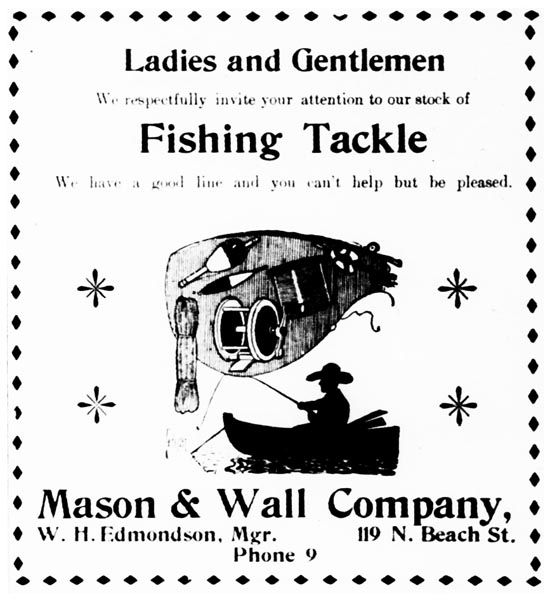 Two, W.H. Edmundson was the manager of the firm and felt the need to stick his name on the ad. I get the feeling Mr. Edmundson had a bit of an ego. I would not buy tackle because of the ad because from past experiences, I'm sure I'd find Edmundson a monstrously large jerk. And I never buy tackle from jerks.
Third, they should have stayed with the silhouette and ditched the "dream" art above the angler's head. I guess it's supposed to represent a dream because what it looks like is a children's collage. All it is missing is dried macaroni. I like the reel but the rest is a mess and not even the filigree and border can save this ad from a failing grade.
I award this ad two fish for aesthetics and one fish for effectiveness. It does not make me want to buy tackle. It doesn't even make me want to think about tackle.
Our final piece for the day we get a snappy little ad from the
Minneapolis Journal
dated May 13th, 1905 for Oscar Mattson. I thought when I originally saw it it read Oscar Madison and I was irrationally happy, being a big Jack Lemon/Jack Klugman fan. But no such luck. I'm still slightly disappointed and trying not to hold it against Mr. Mattson.
This ad is striking and uses a great piece of artwork with a bass and a lure in its mouth. Do you know what lure? I do, and I'll tell you why. It's a Shakespeare Revolution, and that particular cut was used for a decade between 1902-1912 by the Kalamazoo giant in many, many advertisements. They must have made it available to dealers, but they also must not have been happy that Oscar did not mention Shakespeare tackle in his ad. A very Oscar Madison move, if you ask me (he WAS a newspaper writer, after all).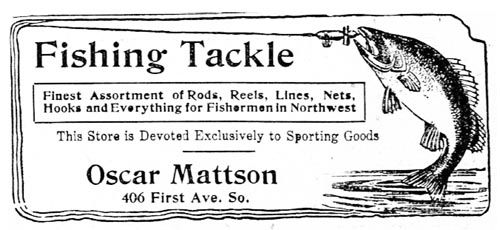 The judgment on this one is yes, I will buy fishing tackle from you, but only when I am in a general spending mood and want to wander the aisles aimlessly until I find what I want. Which sort of describes the majority of Americans, I guess… it gets six fish for aesthetics and seven fish for effectiveness.
Next week we conclude our look at vintage newspaper pictorial advertisements.
-- Finn
Finn Featherfurd is the pseudonym of a sad and lonely retired professor and newspaper columnist who has spent the better part of the past four decades (unsuccessfully) chasing fish in the Lower 48. A long-time collector of vintage fishing tackle of all kinds, he is currently fascinated by pre-1920 children's fishing reels (40 yards and smaller). When the spirit moves him, he will contribute occasional pieces and essays to the Fishing for History Blog. He can be reached at finnfeatherfurd@yahoo.com.