The South Bend Woodpecker Bait – Leader of the Pack
Soon after the appearance in 1902 of the original "Heddon Dowagiac Perfect Surface Casting Bait" ("Slopenose" to collectors), various companies developed similar baits that simply used a wooden collar that was lathe turned as part of the wooden body. I'm not sure who started this but the 1906 Moonlight Floating Bait is my candidate. One thing is for sure, this style of bait was popular and easy to produce. Each company had its own name for their version but it remained for the young South Bend Bait Company in 1911 to come up with what was probably the most popular model of this style and a name that came to be applied by fishermen and collectors alike to the entire class the lures. The name of course was "Woodpecker"
The first South Bend Woodpeckers are somewhat hard to find as the small company had not yet "caught on" with the fishing public. These first model Woodpeckers are easy to identify. They have, as shown below, a large (4 &3/4 inch) body with only two hooks. The hooks are always very large (makes one wonder how big the bass were back then). The single belly hook is hung on the earliest style South Bend hook hardware, which is a somewhat flattened aluminum washer and screw eye. This hardware was abandoned for a shallow round-bottomed nickel cup in time for the 1913 season.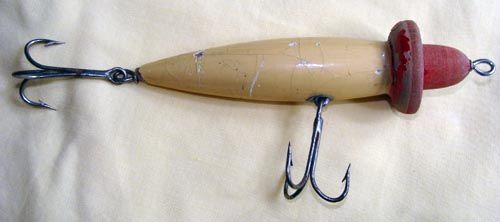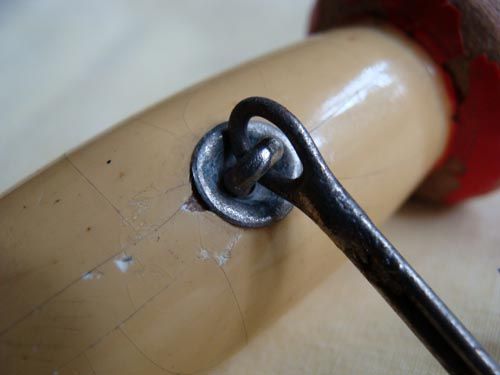 Earliest style South Bend Woodpecker cc1912. Note it came with two very large hooks and the belly hook is hung on the earliest style South Bend hook hardware a "smashed" aluminum disc/cup.
The next known South Bend catalog is for the season of 1914 and that brings us to today's ad from the June 1914 issue of National Sportsman magazine. This is one of the few ads I have seen that features only this lure. It was called in the 1914 catalog the "Midget Woodpecker". This smaller two-hook size (3 inch body) would become the standard for most fishermen as it was more in tune with the size bait favored over much of the country and yet it still weighed ¾ oz which meant easy casting with the tackle of the day.

By 1914 the Wood pecker was supplied in two sizes with the larger standard size equipped with three treble hooks or two weedless hooks and available in Red & White, Frog color and Luminous. The Midget was available in Red & White, and Luminous. Both sizes could be had with weedless hooks if desired.  
Given the number of South Bend Woodpecker Baits seen today at shows it is obvious that it was very popular. Some time ago I read an article that had appeared in the local paper around 1915. It suggested that three baits were very effective on local Bass lakes and were really all one needed. The three were live frogs, a green crackle finished underwater minnow and a red and white "woodpecker" style bait.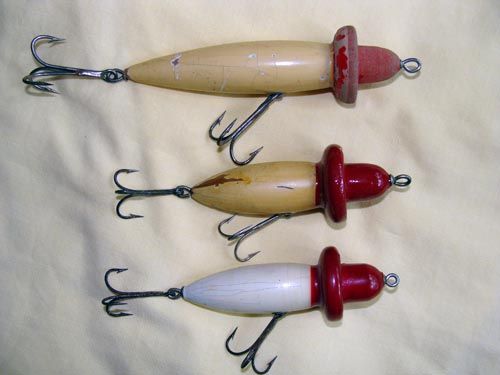 Three South Bend Woodpeckers. The oldest at the top is the 1912 model. In the middle a 1914 Midget Woodpecker with a round-bottomed nickle cup. At the bottom is a post-1918 Midget Woodpecker with a flat-bottomed cup and a now-changed, round line tie.

With such a simple body "woodpecker" type baits were easy to duplicate and while many were produced not only by the major lure companies, many more were made by small operators in home workshops. At that time in my hometown of Jackson Michigan there was a thriving industry of pattern makers and machine shops. When one looks through the city directories of the day, "lathe operator" and "Pattern Maker" are seen over and over in the column marked "occupation". Consequently, we see in older tackle boxes a great variety of "folk art" and the products of small, long-forgotten entrepreneurs. Some home operators such as Art Holzapfel (Mushroom Bait) and Louis A. Wiford (Croaker) have become widely known among today's collectors. The identities of many more are now forgotten.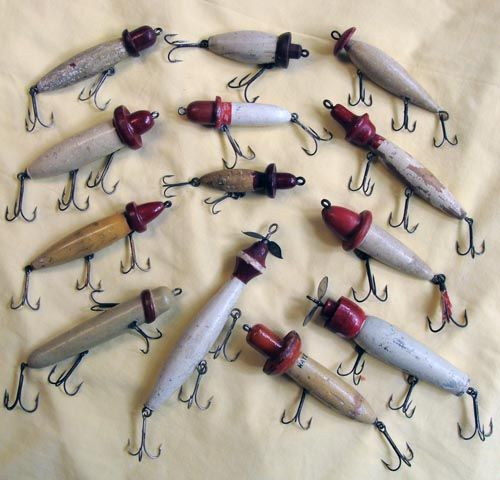 Imitation is the sincerest form of flattery.
The number of "woodpecker style" baits around indicates a great enthusiasm for their effectiveness "back in the day." I am ashamed to admit that with all my experimentation with older baits, I have not given the South Bend Woodpecker a workout. We will have to remedy that in the near future.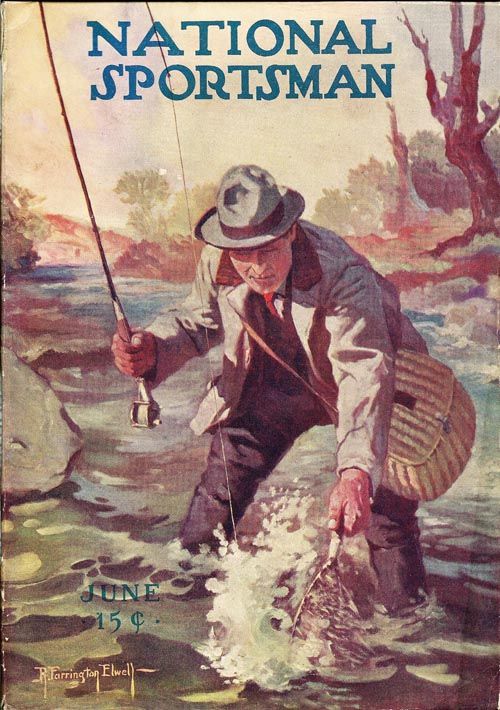 Tight Lines!
-- Bill Sonnett