One of my favorite photos every year comes from Doug Bucha's Nilesfest display. This year is no exception. Doug's description this year:
Over the past twenty years the Niles Riverfest has brought in many fly fishing items.  This year was no exception.  These fly fishing items came from the tackle box of a long time, world traveled Atlantic Salmon fly fisherman by the way of Florida.  I find it interesting to note the variety of age and origin of these items.  From the Atlantic Salmon flies made in England and Norway  to the domestic South Bend Hop-Oreno, Heddon Flap-Tail Mouse, and the exquisite Colorado Moths.  This gentleman fisherman must have really gotten around over the years plus he must have enjoyed fishing for a variety of fish.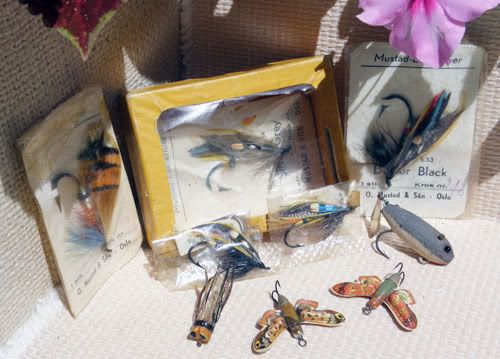 What a time capsule! Awesome photo, too. Thanks Doug!
-- Dr. Todd