The Friday Funhouse
Video of the Week
This'll teach this angler not to put his hand in the water...
Things I Would Buy If I Could Afford Them
This Simmons Hardware Keen Kutter Special
Meisselbach trade reel is a great addition to any trade reel collection.

The Bronson J.A. Coxe Invader
is still attracting tremendous interest.

This a nice
blue shore minnow Chugger
in a see-through box.

Miller's Reversible Minnows
are one of the all-time great fishing lures.
This Heddon Punkinseed
is in a very rare White Shore Minnow with scale pattern on back.

A Shakespeare glass minnow trap
doesn't come around every day.

Texas collectors are going crazy for this
Nichols Shrimp
.
This William Shakespeare Jr.
hand-made Model C casting reel is one of the coolest of all the millions of reels this firm made.
A Clear Chugger Spook
is one of my favorite Heddon lures--Note the eyes on top and bottom of the lure.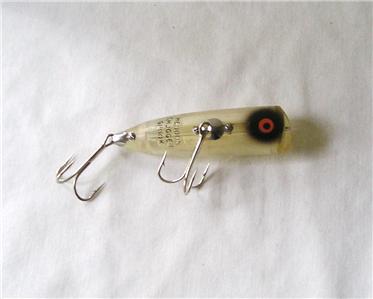 The Creek Chub Injured Minnow
in Goldfish Scale is a great addition to a 1500 collection.
This Paw Paw Salesman's Display
card for William Hardware of Fort Smith, AR is a really rare find.


This DAM Wobbler
is a long way from its fatherland.
This Heddon Vamp
is in a terrific orange coach dog color.
The Walton Speed Bait
is a great misc. metal lure.

More whalebone jigs
--these babies have tripled in price over the past 12 months.
This Dickens Liar box
is a very rare piece of Indiana ephemera.

Rebel Shallow R's
over $50?
As always, have a safe and happy weekend, and be good to each other and yourself.
-- Dr. Todd