The Friday Funhouse
Video of the Week
This week's video brings us an interesting mishap that befell Bill Dance. Now ol' Bill has gotten himself into a few funny situations in his day, but this one made me laugh. Robert Miller--ORCA's Pflueger Pfacts columnist and author of the recent

Stream Dynamics for the Complete Fly Fisherman
--once wrote that there were only three kinds of snakes he hated: snakes he could see, snakes he couldn't, and sticks that looked like snakes. Bill Dance would probably agree.
Things I Would Buy If I Could Afford Them
Is there any lure greater than a
Chippewa in a Box
?

Few Pflueger trade minnows are as pretty as this gorgeous
Senate brand 3-hook Neverfail
sold by H.J. Frost of New York.

Unless it is this
Pflueger trade minnow in a Kingfisher box
...
Here is a great pre-1893
Hawks & Ogilvy reel
.

I like the description
on this one
: "I know very little about fishing lures, but I do know that when I see the name "W.D.Chapman" on a lure, to grab it and run like crazy."
Here is a neat piece of
fishing advertising for Federated Stores
.

The Cadillac of
Ted Williams items
.

The end of an era:
the very last Vom Hofe catalog
.

A couple of
nice Winchester line spools
are guaranteed to break the bank.
Own a piece of history!
Dick Streater's original reference catalog
...this was the first groundbreaking work ever done on the origins of fishing lures.
This Horton Meek #3 in the box
has attracted quite a bit of attention.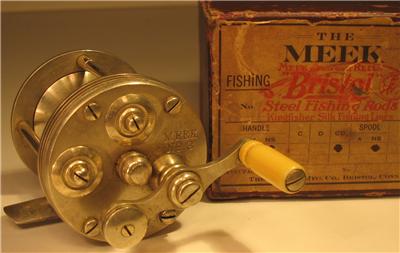 The Heddon of the Week is this gorgeous
Black Head/Red Body 5-hook 150
.

South Bend said God bless America with this patriotic
Red, White & Blue Babe Oreno
.

This Wright & McGill Granger 7' fairy wand
is an absolute stunner.

I'm still trying to figure
this one out
...what do fake prints have to do with prototype lures? At least the seller isn't charging
$995 to ship a fishing reel
.
Have a safe weekend!
-- Dr. Todd