Your future collectable has just arrived--courtesy of E21, makers of the new fishing rods known as Carrot Stix. According to an article in
The Providence Journal
by Tom Meade:
"Carrot Stix, the veggie-based fishing rods, won the best-in-show award at the American Sportfishing Association's international trade show this week. The carrot-orange rods are lighter than graphite, but have more stretch to land larger fish, according to David Hepworth, a director of CelluComp, the Scottish firm that developed Curran, the new material made from vegetables."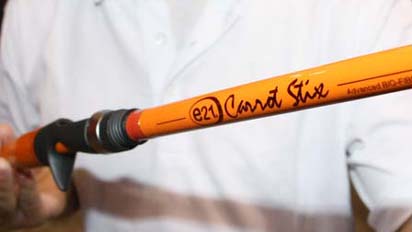 Having been written up simultaneously in
The San Diego Union-Tribune
, Carrot fever began to pick up steam, and reached a mania when Ken Moran wrote up the orange rods in
The New York Post
. When ESPN covered Carrot Stix
in a feature article
, the orange casters had officially arrived.
Perhaps 100 years from now collectors will find these to be the first new collectable rods of the 21st century.
-- Dr. Todd