Don't have time to read 50+ fishing and tackle collecting blogs and web sites? Well, let us do it for you! Follow all of the latest news, articles, and stories on
our Whitefishpress Twitter
account! Hint: You don't need to be a member...just bookmark the
Twitter Feed Page
or click on latest links to the right!
The death of a reservoir in Texas is a sad tale…tv fishing rarely shows the real world of the angler…muskies first on iCast…ice fishing tackle store opens…D.C. Booth hatchery gets profiled…Channel Island Billfish Tourney turns 40…Italian Molix lures make a big splash…lady angler hooked on fishing…couple gifts tackle to kids…paddlefish snaggers are odd…the art and science of fishing guides…it must be THE NEWS OF THE WEEK!
The Big Lead
: A moving account about the death of a
reservoir in Texas
.
Meet and greet pro angler
David Dudley in Florence, AL
.
Why fishing in the real world is
never seen on TV
.
Muskies First weighs in on
iCast
while
winners
are announced.
A new
ice fishing tackle store
gets green lighted in Saline, MI.
A little history on the
D.C. Booth fish hatchery
.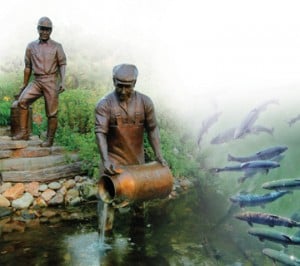 The Channel Islands Billfish Tourney
celebrates 40 years
.
The
Italian Molix
lures hit America.
Dick Pinney reviews the new book by Dr. Harold C. Lyon, Jr. entitled
Angling in the Smile of the Great Spirit
.
Lady angler
hooked on fishing
.
In Ireland, they're using
fishing rods
to steal car keys.
A generous couple
gift tackle to children
.
Paddlefish snaggers
are a strange breed.
Popular Canadian
father-daughter outdoor tv show
hosts get nominated for award.
A new Philippines show
tracks river monsters
.
These
identical twins
develop a dual drag reel and reel in the success.
Why there are no egos
in fly fishing
.
A little info on the
Dark Prince of Fly Fishing
.
Augusta angler seizes opportunity,
buys his favorite store
.
Finishing with a Flourish
: The art and science
of rod guides
.
-- Dr. Todd