THE Friday Funhouse
Video of the Week
New from Fox TV: When Geese Attack!
Things I Would Buy If I Could Afford Them
Four fly reels start of this week's eBay review. The first is a classic
1950 Seamaster
.

A nice companion piece is this
Bogdan #0 Fly Reel
.

Coming from Britain is this awesome
Hardy Perfect
.
Finally we end with this
Fin-Nor Wedding Cake #2
. Not often that four fly reels of this quality come to market at the same time.

This great
E.F. Payne Co. fly rod
will bring some serious bidders, as it a late Jim Payne rod for Abercrombie & Fitch.

Got to love the
Kent Frogs
!
Here is a rare
Vann Clay minnow
that rarely comes to market.

This
J.T. Buel T-patent model
is a classic 19th century lure.
Marble's automatic gaffs
always make for a nice display, especially next to a Norlund.

This
White Shore Minnow 740 Punkinseed
is a pretty, pretty lure.

This three-hook
Pflueger Kingfisher trade minnow
was sold by E.K. Tryon.

Speaking of Tryon,
Jay Harvey
was Tryon's highest end line of fly rods.

This
Heddon River Runt Spook in Yellow Water Wave
(Everready Color) is a classic plastic bait in one of the toughest colorsx.
There seems to be a marked increased interest in
eel spears like this
of late.
A Haas Liv-Minno
in a box is a nice find.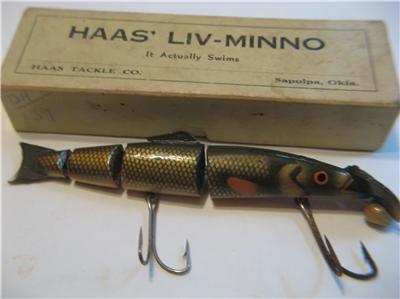 This early Creek Chub Wiggler 100
is a great find, especially in early redside chub.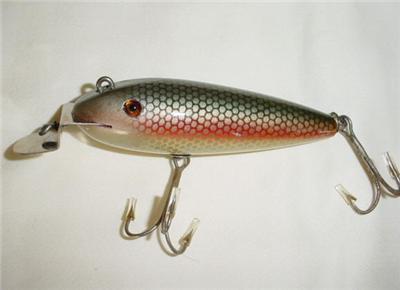 This is a really rare
http://cgi.ebay.com/GLADDING-SAMPLE-BOOK-FISHING-LINES_W0QQitemZ140233824080
.

As I ran a little piece on Fred Nichols yesterday, it is only appropriate to highlight a .
Nichols bait like this

I really, really like this
Creek Chub Bait Co. Pikie in Mackerel
.
That's it for this week! As always, be good to each other and yourself over the long holiday weekend.
-- Dr. Todd