A baseball hall-of-famer turned fishing jerk; the theft of a dying man's fishing rod while EMTs try to save him; immigrant fish in California targeted for destruction...it must be The News of the Week!
Baseball hall-of-famer Wade Boggs is a bad fisherman and, astoundingly,
an even worse human being
.
Kevin Van Dam
did not win Bassmaster Angler of the Year
.
California declares war on immigrant
Northern Pike by using 17,000 gallons of poison
. Locals burn 13-foot pike in effigy. Midwestern stereotypes over insane Californians increases.
Barry St. Clair opines on
the psychology of fishing
. Good thing he did not write on the psychosis of collecting.
The
Philadelphia Inquirer
tells us
that fishing fever is contagious
. The Centers for Disease Control and Prevention in Atlanta is notified.
Keith Elliot (of the journal
Classic Angling
) is
is invited to join an exclusive club
.
News: The
L.A. Daily Breeze
reports on the doings
of the Tuna Club of Avalon
. Bigger news: Zane Grey not mentioned in article.
Ray Sasser of the
The Dallas Morning News
reports on
the upcoming NFLCC show in Dallas
. God blessed Texas with great football, beautiful women, and one of the best outdoor writers in America in Sasser.
The
Fort Worth Star-Telegam
reminds us to
go back to basics when it comes to fishing
.
The
Wlimington Star
details
the Bug-Em Bait Co.
The
Courier Press
tells us
its fun to fish with your best friend
. Read with dramatic music in the background.
The
Hampton Pilot
reports
first-time fisherman catches 1000+ pound Marlin
. In other news, thousands of deep water anglers give up the sport at the same time.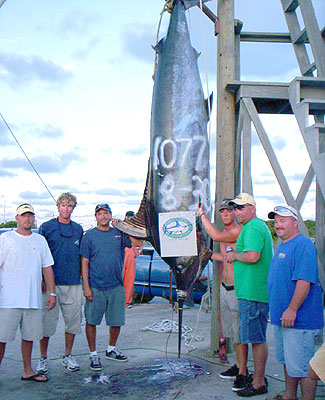 Lucky SOB and his grander
Phoenix Bass Boats
is back from the dead
, complete with requisite "rises from the ashes" quip (Page 147 of the Standard Trite Phrase Handbook).
Michael Wilson thinks
the Pinfish is a bait stealing thief
. Later arrested for taunting a game fish.
Former fishing tackle company owner
arrested for stealing $7 million from investors
. Defense claims he only stole $6.3 million. Really. That's his defense.
New "Rocket Rod" automatic casting machine
responsible for killing dozens of minnows
.
Albuquerque's KOAT tells us that a good place to find fishing tackle is behind the Farmington, NM Car Wash;
but look out for the prosthetic arms
.
The
Adirondack Daily Enterprise
alerts us to the
importance of understanding our outdoor heritage
.
Wal-Mart donates
fishing tackle to local Muskogee, MI fishing derby
, hopes no one notices its all made in China. Local Wal-Mart reputation improves from "Horrible" to "Terrible."
Lang's Auctions gets a nice bit of press
from the Maine Antiques Digest
. Let the drooling commence.
The
Washington Times
reports on the on-going controversy over
the IGFA World Record Flounder
. Polygraph test may settle the issue. NOTE TO SELF:
Don't keep world record fish over night in an open cooler in the garage.
Australian rod maker Ian Miller
designs and builds fishing rod for President Bush
. Who says outsourcing is only limited to technological fields?
West Virginian started carrying camera because people thought he was lying about the fish he caught. Now he uses camera in his tackle box to
take pictures of UFOs
. West Virginia, you must now take one full step backward.
The
Republican Herald
reports that Solar Innovations, Inc.
will begin manufacturing fishing reels in Pennsylvania
. No word on whether they will run on the power of the sun.
The
Kitchener (Ontario) Record
reports that Jamie Harland Gross allegedly stole
a dying man's fly rod while paramedics tried to revive him
. Gross allegedly also steals candy from babies and Christmas presents from orphanages.
And finally, lest you think we have become too jaded here at Fishing History, we bring you
this touching blurb about a giant lure made to honor a 20-year old avid fisherman killed tragically in a car crash
.
Thanks to Ken Schneider for the link. Send in your links please so I can list them!
-- Dr. Todd