Thursday Review:
Fly-Fishing: The Sacred Art--Casting a Fly as a Spiritual Practice
A very special book on fishing has just been published--but I'll warn you. It's about more than fishing. It's about the Bigger Things.
Now I know you probably have seen a hundred purported texts about the Bigger Things, but I don't think you've come across one like this before. It's called
Fly-Fishing: The Sacred Art--Casting a Fly as a Spiritual Practice
and it is written by Rabbi Erik Eisenkramer and Rev. Michael Attas (Skylight Press, 2012) and it is wonderful.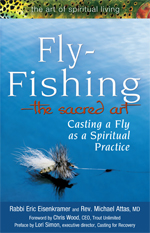 Many of you will know Rabbi Eisenkramer from his brilliant blog
The Fly Fishing Rabbi
. Dr. Attas is a cardiologist, an Episcopal priest, and dedicated fly angler. Both men are hugely qualified to write not only about fly fishing, but about life.
Many of us treat fly fishing like a religion. Rabbi Eisenkramer and Rev. Attas reveal to us in this wonderfully written and inspirational epistle that fly fishing is not a religion, but it can -- if approached the right way -- bring us closer to each other, nature, and God. On every page, we are reminded that fishing is not just about catching fish; instead, it is the journey that matters and the fish, and the waters they inhabit, are simultaneously our inspiration and our guides. Thoughtful and articulate throughout, a careful read of this exceptional book will make you a better fly angler, but more importantly, it will make you a better person.
I don't want to spoil the impact of the story but I will end this brief review by saying that every fly angler--whether agnostic or dedicated from a religious standpoint--will benefit in some way from this lovely little book.
The book is available from
Amazon.com
and directly
from the publisher Skylight Paths
. This softcover book lists at $16.99 and is 140 pages in length.
-- Dr. Todd